May 2013 Commodities, Currencies & Precious Metals
May 2013 Emerging Markets Forecast
May 2013 Dow Jones & Nasdaq Forecast
April 2013 Dow Jones & Nasdaq Forecast
April 2013 Emerging Markets Forecast
April 2013 Commodities, Currencies & Precious Metals
Gold Analysis & Forecast. March 25, 2013
March 2013 Dow Jones & Nasdaq Forecast
March 2013 Emerging Markets Forecast
March 2013 Commodities, Currencies & Precious Metals Forecast
"Watch TV, Make Money!" Who's REALLY Making Money? (Part 8)
Look, It's Erin "Bimbette"

"CNBC's Erin Burnett appears to be one of the most appalling female newscasters to ever hit the airwaves, regularly talking up markets while dismissing news of corruption or scandal or stock plunges as virtually insignificant.
But she often ventures beyond even that, to openly express admiration for business practices which (among other crimes) poison their customers-- as in the quote below:
'A lot of people like to say, uh, scaremonger about China, right? A lot of politicians, and I know you talk about that issue all the time. I think people should be careful what they wish for on China. Ya know, if China were to revalue it's currency or China is to start making say, toys that don't have lead in them or food that isn't poisonous, their costs of production are going to go up and that means prices at Wal-Mart here in the United States are going to go up too. So, I would say China is our greatest friend right now, they're keeping prices low and they're keeping the prices for mortgages low, too.'
Based on comments like that, she must see the cigarette companies as great guys too. And slave labor as a good thing. Heck: if you're all for poisoning children in the name of profits, just where would you draw the line?"
The author continues…
"Yes, Erin Burnett is physically attractive: that was obviously a major reason CNBC hired her. And she's quick-witted at parrying the frequently awful business news of the day with quips to dispel investor concerns, and thereby keep them handing their money over to her corporate patrons. Both these qualities make her a top notch cheerleader for the corporate state-- but not much else. Given enough corporate cheerleaders like Erin Burnett, American wealth and freedoms could easily go the way of the Dodo bird."
Oops! They already are."
I disagree with the author on one point. Burnette is NOT attractive. One thing she IS - annoying.
These aren't all of the bimbos. I posted the ones I ran across from the respective websites.
If you know who these girls are, you're officially a sheep because that means you watch this trash.
As for me, I had to check archives online to research who they are.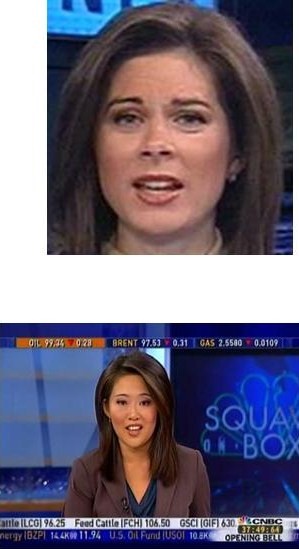 After checking into Melissa Lee for instance, now I know she's the girl many have told me about who is always bragging how she went to Harvard. It's clearly a reflection of her well-deserved insecurities.
After seeing her alongside Cramer, it's abundantly clear to me she's a Grade-A airhead. "Airheads-R-Us."
But don't think these girls are original products of CNBC and FBN. Many of them learned the game of deceit from CNN, ABC, CBS, Bloomberg prior to rising to the top of America's biggest propaganda networks. I tossed in that fact for all of you who think Bloomberg is "credible."
Trust me, they're all the same. If you think different networks are truly competitors, you're wrong. Each financial network is highly cooperative with each other, just like the entire media industry. The networks have partnerships with the big newspapers and radio stations.
One reason for the strong partnerships throughout America's media is due to the ownership of all print and broadcast media by a few men. Once again, this has created a very strong form of censorship very few recognize.
Folks, these bimbos all work for the same pimp. His name is Mr. Media. And the game goes like this…his "media whores" screw your mind while taking your money. Ladies, I bet your parents are proud. I suppose it's better to whore yourself on TV than in a brothel. Right? Maybe not. At least in brothels, whores are providing benefit without destroying millions of lives.
I know what you're thinking now… "hey these girls look pretty good. I think I'm going to check them out. It's okay. I won't be fooled by their trash I just want to watch for entertainment."
Wrong people. You don't watch just for entertainment. You will be affected. Guaranteed. If you watch, you will lose. Guaranteed. Only idiots watch that trash. Sharp investors don't waste their time on trash. This is a fact, so accept it.
See Our Copyright Policy
Copyright © 2008-2013. AVA Investment Analytics, LLC. All Rights Reserved.

Restrictions Against Reproduction: No part of this publication may be reproduced, stored in a retrieval system, or transmitted in any form or by any means, electronic, mechanical, photocopying, recording, scanning, or otherwise, except as permitted under Section 107 or 108 of the 1976 United States Copyright Act, without the prior written permission of the copyright owner and the Publisher.

These articles and commentaries cannot be reposted or used in any publications for which there is any revenue generated directly or indirectly. These articles cannot be used to enhance the viewer appeal of any website, including any ad revenue on the website, other than those sites for which specific written permission has been granted. Any such violations are unlawful and violators will be prosecuted in accordance with these laws.

Article 19 of the United Nations' Universal Declaration of Human Rights: Everyone has the right to freedom of opinion and expression; this right includes freedom to hold opinions without interference and to seek, receive and impart information and ideas through any media and regardless of frontiers.