Through much of this series, I've been talking about CNBC. But there's a new kid on the block; Fox Business Network (FBN). Why do you think they started this network? Because they saw how many suckers were stupid enough to watch CNBC.
Rupert Murdock recognized the potential profits of a drama-filled investment network after seeing CNBC's "success." He realized you could fool people into thinking your network delivers timely insight, while selling ads to the financial industry.
By watching CNBC, Murdoch saw how lucrative the Hollywood marketing model could be when applied to Wall Street.
All one needs are some Wall Street hacks, some babes, (preferably with big boobs) live footage of the cocaine-addicted traders on the exchange, and bingo. So Murdock spun off his own financial propaganda network from FOX called the FOX Business Network or FBN
.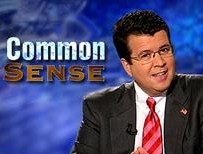 "Common Sense" huh? My common sense tells me these guys and gals are liars or idiots. What does yours tell you? Either way, they aren't delivering the truth.
The various financial shows on CNBC and FBN turn a typical non-eventful day into a cutting edge thriller filled with "critical" news. And they always seem to know why the stock market moved up or down.
These are fantasies created by the producers. It's all an act; an infomercial if you will, no different than the ones airing on late night.
There is one difference. CNBC and FBN create Hollywood-like productions to give you this impression that you've been patched into the "road to riches."
Why do you think CNBC has a show called "Fast Money?" They make you think they have experts to help you make money almost effortlessly. In reality, these guys are 100% CLUELESS, as confirmed by their track records. They're failed traders that got blown out. That's why they're on TV.
Even if they were great traders, the fact is that traders don't have a clue what's going on beyond the next 60 seconds in the market. They make very short-term trades so they don't need to know what's going on. Of course, the sheep don't realize these realities.
The reality is that either through their ignorance or lack of conscious, they deceive and in many cases lie to you. They also toss in "babes" along the way to distract your mind. In some cases, the "babes" have big boobs. And they aren't shy about showing them off.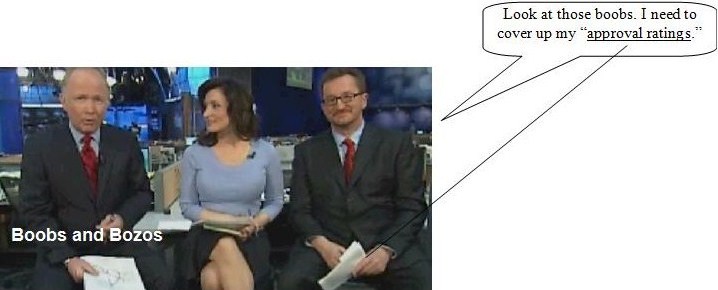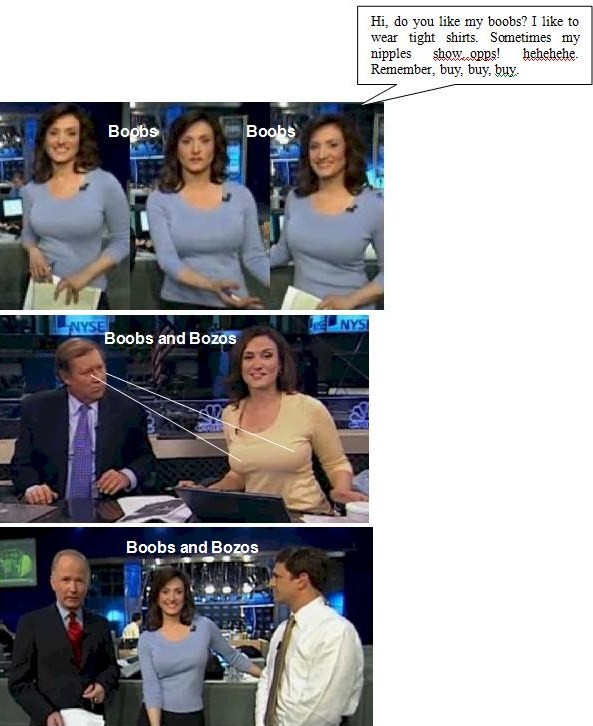 The "Babes and Boobs" Crew on CNBC and FOX Business.
Those who watch, listen and read the trash from the financial media monster remain in the grasp of deceit. All of the propaganda used by Wall Street is meant to help their bottom line. And they reward financial networks for helping to spread this deceit by spending millions of dollars on ads and commercials.
Battle of the Bimbos: FBN vs. CNBC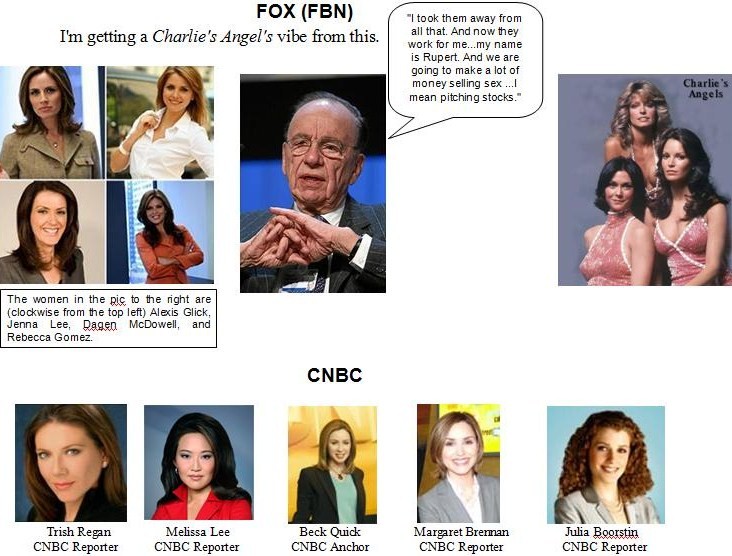 Of course, the plot thickens when you throw in a few guys working for Wall Street to encourage you to buy, buy, buy - all the way down. The hacks on
CNBC have been calling bottoms over and over again…from 13,500 all the way down, as if everyone has unlimited cash to invest.
So, are you fed up with the BS of the media?
Are you starting to get the picture?
If not, I suggest you read Parts 1-6 and continue reading the rest of this series.
Complaining about it isn't enough. If you watch them you become both a victim and the enemy because you are giving them all they want; ratings. In the process, you lose money because you're clinging onto this bogus claim they make that they're armed with experts who will help you.
Simply turn the TV off so you can liberate your mind from psychological control. You'll thank me down the road.
See Our Copyright Policy
Copyright © 2008-2013. AVA Investment Analytics, LLC. All Rights Reserved.

Restrictions Against Reproduction: No part of this publication may be reproduced, stored in a retrieval system, or transmitted in any form or by any means, electronic, mechanical, photocopying, recording, scanning, or otherwise, except as permitted under Section 107 or 108 of the 1976 United States Copyright Act, without the prior written permission of the copyright owner and the Publisher.

These articles and commentaries cannot be reposted or used in any publications for which there is any revenue generated directly or indirectly. These articles cannot be used to enhance the viewer appeal of any website, including any ad revenue on the website, other than those sites for which specific written permission has been granted. Any such violations are unlawful and violators will be prosecuted in accordance with these laws.

Article 19 of the United Nations' Universal Declaration of Human Rights: Everyone has the right to freedom of opinion and expression; this right includes freedom to hold opinions without interference and to seek, receive and impart information and ideas through any media and regardless of frontiers.